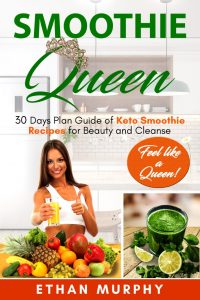 "About Smoothie Queen: 30 Days Plan Guide of Keto Smoothie Recipes for Beauty and Cleanse:
Whether you want to cleanse, lose weight, or just make sure you get your daily dose of minerals and essential vitamins, drinking a smoothie is a tasty way to improve your health with Smoothie Queen Keto Recipes.
The recipes are easy and quick to make and also have wonderful pictures.
This book is designed for people who want to start to love themselves again – and having more time, more energy, a better body; and more fresh food in the diet is the best way to start doing so.
All the Smoothie Queen Keto Recipes are designed to make you feel great – once you've started to include smoothies in your diet regularly, you'll wonder how you ever survived without them.
Targeted Age Group: any age
Written by: Ethan Murphy
Buy the ebook:
Buy the Book On Amazon
—>
This site contains affiliate links to products. We may receive a commission for purchases made through these links.