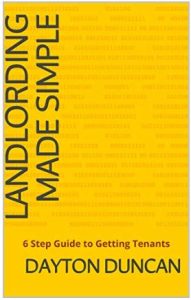 "About Landlording Made Simple: 6 Steps to Getting Tenants:
With over a decade of real estate experience, Dayton Duncan shares his insights to owning the landlord game. Dayton has closed over twenty deals and has created an effective guideline for finding and managing tenants. In this 6 step guidebook, Dayton details his learnings on filling properties and instituting the proper protections from day 1 to ensure that no money is lost. This guide is a short read intended to provide the essential information needed to structure your tenant acquisition process. These steps provide the framework to help any investor, new or veteran, package their documentation, attract tenants and conduct thorough screenings.
Targeted Age Group: 18+
Written by: Dayton Duncan
Buy the ebook:
Buy the Book On Amazon
This site contains affiliate links to products. We may receive a commission for purchases made through these links.