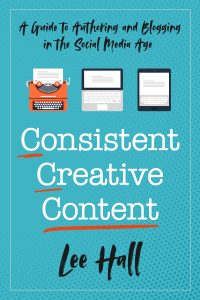 About Consistent Creative Content: A Guide to Authoring and Blogging in the Social Media Age:
Best-selling indie author and blogger Lee Hall shares his journey of experience in this part-memoir part-guidebook that aims to inspire and inform budding wordsmiths at any level. From the basics of blogging and authoring all the way to advanced social media methods and marketing; this book is filled with good practical advice, top tips and effective strategies. You'll even find some never before shared resources to help navigate your way to authoring and blogging success in the social media age.
After selling hundreds of books and getting thousands of blog views, you'll discover how Lee Hall published six books in five years through a detailed road map and how he put together the building blocks of success to sell books and gain social media traction. This easy-to-read guide will inspire the modern-day author and blogger to achieve the same by carving their own path and all you need is Consistent Creative Content.
Targeted Age Group: 12+
Written by: Lee Hall
Buy the ebook:
Buy the Book On Amazon
—>
This site contains affiliate links to products. We may receive a commission for purchases made through these links.