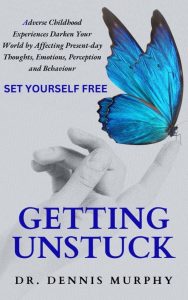 About Getting Unstuck:
EBook FREE for a limited time!
Do you suffer from 'childhood' inner wounds?
Here is a telltale sign!
If you experience 'recurring' or 'out of proportion' emotions and reactions to present-day events, experiences, people, or behaviors…
…there is a good chance you do.
If this sounds familiar, Dr. Murphy's book will give you life changing information.
Inner wounds will keep you stuck. Why? Because they are unconscious.
These wounds impact day-to-day life by causing pain, suffering and damage. People live their life not knowing why it is so difficult. No matter what they do, nothing changes. The same cycle of pain and struggle continues causing despair and hopelessness.
The truth is…
…many of our day-to-day struggles and afflictions such as depression, anxieties, relationship difficulties, or mal-adaptive behaviours are based in early childhood trauma or the lack of a loving, nurturing environment that is crucial to bring forth the child's Spirit and give birth to the positive self-beliefs that create confident, happy, loving adults.
THERE IS AN ANSWER!
Dr. Murphy's powerful insights will help you:
• Find the cause of what holds you back, keeps you stuck, and darkens your world so you can break free, see the light, and live your wonderful life.
• Develop four critical levels of awareness so you can heal the source of your pain and reclaim your Life.
• Learn how inner wounds affect your present-day life.
• Discover the powerful source of your existence that is within You.
• Use your intense and volatile emotions to set yourself free.
LEARN TO CONFRONT THE "ROOT CAUSES" OF DEPRESSION, ANXIETY, ADDICTION, ANGER, SHAME, CODEPENDENCY, FEAR, COMPLEX PTSD, PHOBIAS, EMOTIONAL DYSREGULATION, COMPULSIONS, MALADAPTIVE BEHAVIOURS, AND STRESS SO YOU CAN END THE PAIN AND STRUGGLE. START LIVING YOUR EXCEPTIONAL LIFE!
Getting Unstuck equips not only sufferers but also psychologists, psychiatrists, social workers, and trauma-informed therapists with the insights and tools necessary to break free from the long-term effects of childhood trauma and other adverse childhood experiences (ACEs).
Consciousness is freedom!
Build kindness and compassion for yourself…Explore your trauma…Invest in your recovery…You can heal!
With Dr. Murphy's powerful insights and ground-breaking work, you can integrate deep-rooted, unconscious wounds and break free of your emotional prison – so you can finally become the loving, happy adult you were meant to be!
Pick up your copy today.
Targeted Age Group: All ages
Written by: Dr. Dennis Murphy
Buy the ebook:
Buy the Book On Amazon
—>
This site contains affiliate links to products. We may receive a commission for purchases made through these links.