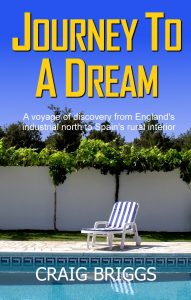 "About Journey To A Dream:
Like many of us Craig Briggs dreamt of living a different life, free from the stresses and strains of modern living. But unlike most of us, he decided to pursue his dream.
In May 2002 Craig, his wife Melanie and their dog Jazz, left their hometown of Huddersfield in England's industrial north and set off for Galicia, a remote and little known region in the northwest corner of Spain.
So began their Journey To A Dream.
With help from the locals, they quickly settle in to their new relaxed lifestyle but the search for a new home soon changes that. They encounter a freelance estate agent of dubious character and after several failed attempts to buy a house are forced to reassess their goals.
Worse follows: a brush with the law, a builder who refuses to work, a swimming pool that floats, and the mysterious disappearance of their life savings. The spectre of a penniless return to England with their dream in tatters hovers over them.
Join Craig, Melanie and Jazz along a colourful, bumpy, and sometimes dangerous journey and immerse your senses in the sights, sounds, and tastes along the way.
Targeted Age Group: 16+
Written by: Craig Briggs
Illustrated by:
Buy the ebook:
Buy the Book On Amazon
—>