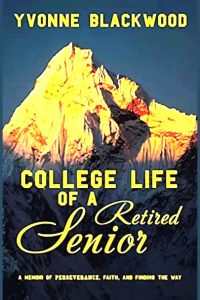 About College Life of a Retired Senior:
Seven years after she retires from the Royal Bank of Canada, ending a thirty-seven-year career, banker/author Yvonne Blackwood surprises her friends and family by returning to school at sixty-four to pursue an English degree. She craves knowledge and is motivated by four powerful reasons: to add texture to her writing; to ward off dementia by exercising her brain with her studies; to add ongoing structure to her life by attending classes regularly; to inspire her two young grandsons to attend university full-time when they graduate from high school.
Blackwood attends York University, Canada's third-largest university, and struggles with maintaining her established lifestyle, being in class with hard-to-connect-with millennials, and a shocking diagnosis in her final year. She stumbles upon several obstacles in her quest to earn the degree. They include two strikes at the university, one lasting 143 days; the lockdown of the campus when the WHO declares COVID-19 a pandemic; and hospitalization. The university's motto is Tentanda via—the way must be tried. Blackwood weaves this theme and the metaphor of climbing a mountain into the narrative. When some situations become almost unbearable, and she thinks of quitting, she perseveres and relies on her faith. She writes, "What I didn't know was how much the pursuit of the degree would inform me, challenge me, satisfy me, and drive me to consider giving up on more than one occasion."
Targeted Age Group: Adults
Written by: Yvonne Blackwood
Buy the ebook:
Buy the Book On Amazon
Buy the Book On Barnes & Noble/Nook
Buy the Book On Apple Books
Buy the Book On Kobo
This site contains affiliate links to products. We may receive a commission for purchases made through these links.