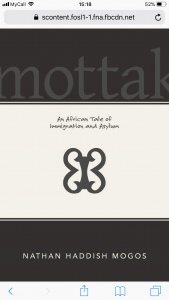 "About Mottak: An African tale of Immigration and Asylum:
Imagine being stranded in the heart of winter, in an isolated town at the northern edge of the world. Though born on the continent of Africa, political officials have made citizenship and social mobility at home difficult for many youth and young adults to realize. And so some flee to Europe, seeking help in "Babylon"-and are told to wait. And wait. This fictionalized true story brings to life the never-before-published experiences of African asylum-seekers in Norway. With Cliff, Congo, and a group of other cast members from across the African continent, an Eritrean narrator details the almost-existential struggle of life in the Mottak, one of the system's all-male dormitories. There, every weekday is Monday, and every weekend is a chance to escape the oppressive limbo between arrival and citizenship. There, the men rarely talk about the past. They don't dare hope for the future. They share but two things in common: they cannot go home, and they are waiting.
Targeted Age Group: Above 18
Written by: Nathan H Mogos
Buy the ebook:
Buy the Book On Amazon
This site contains affiliate links to products. We may receive a commission for purchases made through these links.