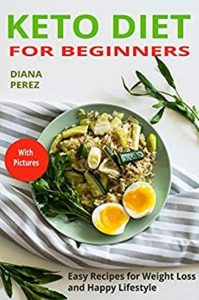 "About KETO DIET FOR BEGINNERS: Easy recipes for weight loss and happy lifestyle:
Do you want to get out of bed feeling?
Looking to lose weight and hack your way to a healthier, fit body?
Do you want to be more energy and healthy?
If the answer is YES, then this book is for you!
Every day a new kind of diet is being invented to make us healthier, stronger, and just the right shape. Keto Diet is considered to be a very low-carb diet that can ultimately help you lose weight faster and in a healthy way. This Keto Diet for Beginners cookbook is just a quest for all those who are looking to change their eating habits.
This book is your all-in-one resource for starting and sticking to the Ketogenic Diet. You get exactly what you need to make keto simple; meal plans and lots of keto recipes.
In Keto Diet for Beginners you're gout to learn:
– important things you need to know before starting a ketogenic lifestyle;
– simple tips to help you avoid beginner mistakes;
– meal plans from breakfast to dinner for each day of the week.
Targeted Age Group: G
Written by: Diana Perez
Buy the ebook:
Buy the Book On Amazon
—>
This site contains affiliate links to products. We may receive a commission for purchases made through these links.