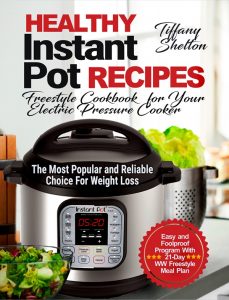 "About Healthy Instant Pot Recipes: Freestyle Cookbook for Your Electric Pressure Cooker.:
Reach New Horizons With The Healthy Instant Pot Recipes and New Freestyle Program
We all wish to be fit and healthy and to feel great. To maintain our fitness and well-being, we need to adopt a healthy way of eating.
With this Instant Pot Cookbook, you'll learn how to:
• lose excess weight and still enjoy all your favorite foods
• enjoy delicious meals without too much cooking time or cooking technique
• be healthier, energetic and longevity
This book provides you with:
• hand-picked collection of freestyle program recipes to prepare using your Instant Pot
• over 50 healthy ideas for breakfast, lunch, sides, seafood, and more, you'll be cooking healthier and faster using this revolutionary device
• complete 21-Day Meal Plan
• Instant Pot A-Z guide, with electric pressure cooker time chart and other handy tips, which'll help you utilize your Instant Pot like a PRO
• calories and macros ―Every recipe lists serving quantity, prep time, cook time, easy to follow ingredients, preparation instructions, images and nutritional information to keep you on track
Targeted Age Group: G
Written by: Tiffany Shelton
Buy the ebook:
Buy the Book On Amazon
This site contains affiliate links to products. We may receive a commission for purchases made through these links.