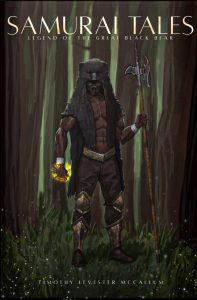 About Samurai Tales: Legend of the Great Black Bear:
During a time of turmoil, the Great Continent was under threat by a invading force of barbaric people. In this time of tragedy and chaos, a young warrior will rise to the occasion and defend his homeland. Taken place forty years before the events of Samurai: The Three Sons; you heard of his name now learn his tale. Witness the legend of the Great Black Bear
Targeted Age Group: Teen/Young Adult
Written by: Timothy McCallum
Buy the ebook:
Buy the Book On Amazon
Buy the Print Book:
Buy the Book On Amazon
Author Bio:
Timothy McCallum was born in 1987. He was born and raised in Brooklyn, New York. For as long as he can remember, he's been fascinated with fantasy and science fiction. Some of his favorite book series are the Witcher, Harry Potter, and Dragon Age Novels. Timothy also loves comic books, some of his favorite writers are Hickman, Ewing, Cates, and Claremont. He also loves role playing games such as Final Fantasy, Dragon Quest, Persona, and Mass Effect. All these have helped develop Timothy's creative mind which is ideal for a writer. Timothy still reside in Brooklyn, New York, when he's not at his day job as a Court Officer, he is hard at work creating his very on series of books. Timothy's ready to share with the world his imagination.
Follow the author on social media:
Facebook Fan Page
Twitter
Instagram
YouTube
This site contains affiliate links to products. We may receive a commission for purchases made through these links.