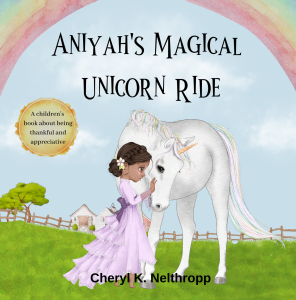 About Aniyah's Magical Unicorn Ride:
Join Aniyah on an epic adventure like no other in Aniyah's Magical Unicorn Ride – a thrilling and heartwarming storybook that will take children aged 3-9 years old on a magical journey of self-discovery.
Follow Aniyah's journey as she sets out on a quest to find happiness and discovers that the key to true happiness lies in being grateful and appreciative for what you have. With the help of Uri, a magical unicorn, Aniyah embarks on an exciting adventure through Fairytale Land, Underwater Paradise, Prehistoric Kingdom, and Pirate's Cove. They'll encounter princes and princesses, swim with mermaids, soar on dragons, and uncover hidden treasures.
But the adventure doesn't stop there! Aniyah's Magical Unicorn Ride is packed with valuable life lessons that will inspire children to be more mindful and appreciative. At the end of the book, the author has included Ten Ways to Teach Your Child Mindfulness and Thankfulness to further enhance the learning experience.
This imaginative and adventurous story is the perfect way to ignite a love of reading in children while teaching them important values. It's a heartwarming tale that will captivate young readers' imaginations and leave them eagerly anticipating the next adventure.
So, whether you're looking for an exciting bedtime story or a fun-filled activity to share with your little ones, Aniyah's Magical Unicorn Ride is a must-read! Don't miss out on this enchanting journey through the magical world of Aniyah and Uri.
Targeted Age Group: 3-9
Written by: Cheryl Nelthropp
Buy the ebook:
Buy the Book On Amazon
—>
This site contains affiliate links to products. We may receive a commission for purchases made through these links.