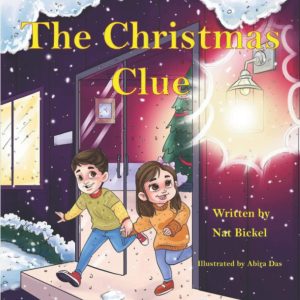 About The Christmas Clue:
Christmas brings out excitement, joy, and love of family. For siblings, Ryan and Natalie, it does even more than that. It stirs up anticipation and friendly competition because when Santa visits their house, he leaves clues. He hides them under couches, in cookie jars, outside in the snow, and even in the bathtub. Santa doesn't simply drop off the presents and leave like usual through the chimney. At Ryan and Natalie's house, he gives them the thrill of a Christmas morning scavenger hunt. It's a mad dash after all the other presents are opened, as they take turns reading clue after clue and rhyme after rhyme in hopes to find their last gift.
Targeted Age Group: 4-10
Written by: Nat Bickel
Buy the Print Book:
Buy the Book On Amazon
Buy the Book On Barnes & Noble/Nook
This site contains affiliate links to products. We may receive a commission for purchases made through these links.