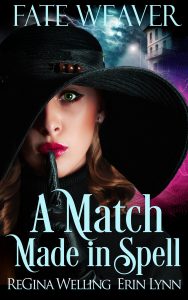 About A Match Made In Spell:
What good is a witch with no magic?
I'm Lexi Balefire and I wear a lot of hats, but none of them are tall and pointy. I spend half my time making love matches that last forever, and the other half trying to keep my faerie godmothers from turning each other into toads. Or worse.
I come from a long line of witches, some of them wicked, but none of that will matter if my magic doesn't awaken before midnight on my next birthday. If I miss that deadline, I'll never be a true witch.
If my mother and grandmother hadn't used their magic to kill each other, one of them might have been able to give me the keys to the mystery and I'd be one step closer to claiming my Fate Weaver heritage.
Now, I guess I'll have to figure it out on my own.
The Fate Weaver series featuring the enchanting Lexi Balefire, matchmaking witch, has elements of mystery, romance, and the supernatural. It's an urban fantasy with lots of humor and a cozy mystery feel.
Targeted Age Group: Trade
Written by: Erin Lynn
Buy the ebook:
Buy the Book On Amazon
Buy the Book On Barnes & Noble/Nook
Buy the Book On Apple Books
Buy the Book On Kobo
Buy the Audio Book:
Buy the Book On Amazon
Buy the Print Book:
Buy the Book On Amazon
Author Bio:
ReGina Welling and Erin Lynn are a mother-daughter writing. Together, they have penned two series, The Fate Weaver books and the Ponderosa Pines Cozy Mystery series. ReGina is also the author of the Psychic Seasons books and Earthbound series. Erin and ReGina live in rural Maine.
Follow the author on social media:
Learn more about the writer. Visit the Author's Website
Facebook Fan Page
Twitter
Instagram
Pinterest
This site contains affiliate links to products. We may receive a commission for purchases made through these links.