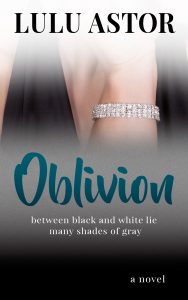 "About Oblivion: between black & white lie many shades of gray:
When tragedy strikes Aja Lawson, she believes her life has forever lost its luster. Indifferent to everything but the unrelenting and gnawing misery inside of her, she scrapes up the shards of the shiny girl she used to be and tries to somehow keep moving forward. But in the shadows, forces are gathering like tumbleweed to disrupt her life: forces, or more concisely, men.
Powerful men.
One man is bent on Aja's destruction; two others want to possess her, but all three have one thing in common: they are thoroughly, mind-and-body obsessed with Aja.
Oblivion is the high-stakes game where winner takes all. Aja Lawson is the ultimate prized possession.
Targeted Age Group: 18-65
Written by: Lulu Astor
Buy the ebook:
Buy the Book On Amazon
Link to Series: https://www.amazon.com/Oblivion-Duet-2-Book-Series/dp/B07FXQ97Q2
—>