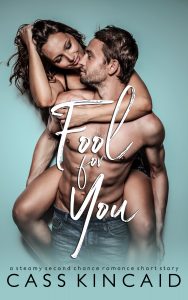 "About Fool for You:
After watching Elena carry our beautiful son in her womb, give birth to him, and mother him in a way I could have only ever dreamed of…
That was it for me.
That's when I really knew…
I knew I had to get her back.
One way or another.
And if she thinks she can move on from me…she has another thing coming.
Fool for You is the first standalone steamy romance short story in the Second Chances series. Fool for You is about an Alpha Billionaire winning back the love of his life who happens to be the mother of his infant son. He's determined to prove to her that he can provide more to her and their son than just financial stability.
Targeted Age Group: 17+
Written by: Cass Kincaid
Buy the ebook:
Buy the Book On Amazon
This site contains affiliate links to products. We may receive a commission for purchases made through these links.