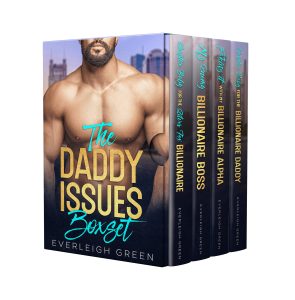 About The Daddy Issues Boxset:
The difference between a Millionaire and a Billionaire?
A Millionaire will love you for a night.
A Billionaire will love you for a lifetime.
Come meet the latest members of the Billion Dollar Club, where money isn't an issue.
Michael Rockland, a devastatingly handsome damaged Billionaire with a lust for life.
Max Renshaw, with the chiseled jawline and protective nature. You know the type.
Logan McDonagh, he's grumpy but you can tell his body is shredded under his suit.
Alex Davison, the strong arrogant with the dreamy eyes and a secretive smile.
The Daddy Issues Boxset includes:
Surprise Baby For The Billionaire Daddy
My Enemy Billionaire Boss
Faking It With My Billionaire Alpha
Surprise Baby For The Billionaire Daddy
All four books are stand alones and part of the Billion Dollar Club Series.
WARNING! SIDE EFFECTS REPORTED INCLUDE:
RISING BODY TEMPERATURE
SWEAT BEADING
TOE CURLING
EYES WIDENING
HEART PALPITATIONS
If you are a fan of:
Fake relationships
Ex-boyfriend's older brother
Forced proximity
Enemies to lovers
Age gap
Surprise pregnancy
Alpha male
Sassy female
HEA
Then this is the boxset for you.
Targeted Age Group: 18-64
Written by: Everleigh Green
Buy the ebook:
Buy the Book On Amazon
—>
This site contains affiliate links to products. We may receive a commission for purchases made through these links.