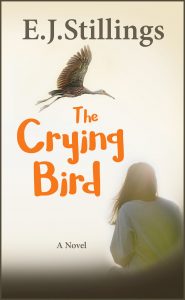 "About The Crying Bird:
Contemporary Women's Fiction Novel about healing from grief through sometimes hilarious failures and misadventures
May Johnson used to be an ordinary wife and mother. Now, she's a middle-aged millionaire, grieving the loss of her family. The only living relative she has left is her smothering younger sister. May's sanity is already threatened when tensions rise, so she sets out to find solitude down south in the marshes Florida. However, life and a large obnoxious bird have other plans for her.
Animal encounters, unlikely friendships, sisterly squabbles and hilarious scenarios take May on an unforgettable journey from the depths of grief to a new life. But, will she embrace it?
Targeted Age Group: 30+
Written by: E.J. Stillings
Buy the ebook:
Buy the Book On Amazon
—>
This site contains affiliate links to products. We may receive a commission for purchases made through these links.