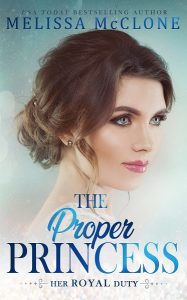 "About The Proper Princess:
She's been a proper princess—but she wants to rebel.
After the death of her fiancé, Princess Madeleine knows a loveless, arranged marriage awaits her. She's resigned to her fate until she meets her intended husband. Crown Prince Enrique is gorgeous, but he comes on way too strong, says the wrong things, and fumbles with apologies. He's more court jester than Prince Charming. How can she marry him?
Enrique might be self-centered and lack social skills, but he's trying to do better—for himself, his country, and his future wife. Despite their royal union being a political necessity, he wants his marriage with the captivating Madeleine to be a love match. He's willing to do whatever it takes to woo her. How hard can it be to win his princess bride's heart?
Nearly impossible, he discovers, because Madeleine seems unwilling—or unable—to give him her heart. On their wedding day, instead of exchanging vows, will the royal couple say goodbye?
Targeted Age Group: 17+
Written by: Melissa McClone
Buy the ebook:
Buy the Book On Amazon
Buy the Book On Barnes & Noble/Nook
Buy the Book On Apple Books
Buy the Book On Kobo
This site contains affiliate links to products. We may receive a commission for purchases made through these links.