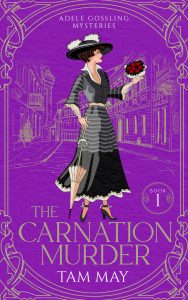 About The Carnation Murder (Adele Gossling Mysteries: Book 1):
Adele Gossling seeks peace and small pleasures in Arrojo after the death of her father. Peace is exactly what she doesn't get when she discovers her neighbor's dead body in her gazebo. The police have a firm suspect but Adele is sure he's innocent. But if he didn't do it, who did? – "The story comes alive!"
Targeted Age Group: Adult
Written by: Tam May
Buy the ebook:
Buy the Book On Amazon
Buy the Book On Barnes & Noble/Nook
Buy the Book On Smashwords
Buy the Book On Apple Books
Buy the Book On Kobo
This site contains affiliate links to products. We may receive a commission for purchases made through these links.