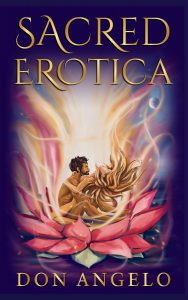 About Sacred Erotica:
For those who crave more…
Don Angelo presents you with over 80 passionate poetic transmissions that'll awaken your body, mind, and soul to the orgasmically epic spiritual power of sacred intimacy.
As an ambassador of the Divine Masculine Spirit, Don Angelo's poems channel the love, passion, and sacred intimacy between the primordial masculine and feminine energies of creation in sacred union.
As you read these pleasurably invigorating and soulfully intoxicating erotic poems, you'll naturally intuit and download the magical codes of sexual potency and thriving intimacy.
Each poem will leave you feeling drunk in ecstasy and thirsty for more of this phenomenal passion…
Targeted Age Group: Women
Written by: Don Angelo
Buy the ebook:
Buy the Book On Amazon

Buy the Print Book:
Buy the Book On Amazon
Buy the Book On Barnes & Noble/Nook
Author Bio:
Don Angelo is an Ambassador for the Divine Masculine Spirit, inspiring passionate sacred intimacy and rapturous union between the embodiments of masculine and feminine.
Follow the author on social media:
Instagram
This site contains affiliate links to products. We may receive a commission for purchases made through these links.