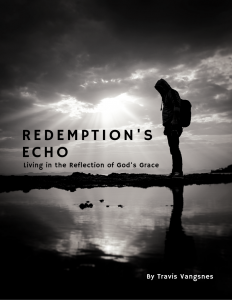 "About Redemption's Echo: Living in the Reflection of God's Grace:
Through personal stories and reflections, Redemption's Echo reminds us that God is always masterfully at work using and repurposing our lives, our mess ups, and even the "ordinary" events in the everyday to create jaw dropping moments of redemption and hope all around us. Even in our suffering.
In God's script, the "weakest" can teach us what great strength looks like, little kids can teach us what big faith looks like, and the suffering we face can help heal us as we're joined by Jesus. God's plans are limited by nothing and every circumstance we face is a potential land mine to blow our minds with his love, nearness, and power!
This book also reminds us how the gospel frees us from the futility of religious self effort and fuels our motivation to love and serve those around us with deeper grace and renewed compassion. With profound thoughts from the author's brain-injured brother (who cannot speak!) and stories of God showing up dramatically in unexpected places, Redemption's Echo will change how you view your own life in light of God's greater purposes.
Targeted Age Group: adult
Written by: Travis Vangsnes
Buy the ebook:
Buy the Book On Amazon
This site contains affiliate links to products. We may receive a commission for purchases made through these links.