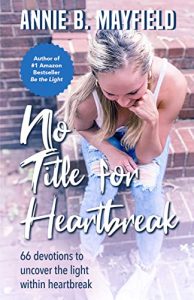 About No Title for Heartbreak by Annie Mayfield:
Doubtful. Scared. Fearful. Paralyzed.
A shattered heart leaves you with all. Whether it be a breakup, a friendship that fell apart, a family member that passed away, or the destruction of your preconceived life plan; the pain of loss consumes you like nothing else. Perhaps the only thing more painful than a broken heart, is sitting in your brokenness alone.
Someone once told me that getting adjusted to a broken heart is like breaking a habit (that habit being the way your heart was prior to its breaking), and that it takes 66 days to break a habit. With that in mind, this 66 day devotional is designed to reintroduce you to God's truth within the most vulnerable time of your heartbreak. A guiding principle to remind you that no matter what pain you are feeling, you are never alone.
Targeted Age Group: 18-75
Written by: Annie Mayfield
Buy the ebook:
Buy the Book On Amazon
—>
This site contains affiliate links to products. We may receive a commission for purchases made through these links.