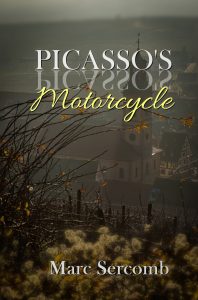 About Picasso's Motorcycle:
France, 1940.
An unexpected gift of an old motorcycle with a tragically romantic past hurls a young orphan into the thick of things as war breaks out and his life changes forever. Half-French/half-German Daniel must find a way to survive in a world that mercy seems to have abandoned. This book transports the reader to Nazi-occupied France, where Daniel unwittingly and unexpectedly finds himself working for the Resistance, and ultimately to the Russian Front in a twist of fate so startling that no one can see it coming. In turn quirky, heartwarming, beguiling and uncompromising, author Marc Sercomb weaves together many moods and colors to tell young Daniel's story. Beyond engaging, Picasso's Motorcycle has been hailed as a genuine "page-turner" by those who have so far encountered it.
Targeted Age Group: adults
Written by: Marc Sercomb
Buy the ebook:
Buy the Book On Amazon
—>
This site contains affiliate links to products. We may receive a commission for purchases made through these links.