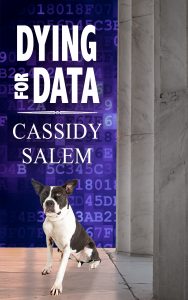 "About Dying for Data:
A romantic evening with a hot guy goes downhill fast when murder arrives with dessert. Afraid her bartender boyfriend might be accused of murder, Adina's neighbor enlists her assistance, and in the process exposes her to the seamier side of illegal immigration and crime in the city. Hard as she tries to limit her involvement, the more Adina learns, the more she needs to know – until a case of mistaken identity lands her in hot water. Will she uncover the truth before it's too late?
Targeted Age Group: 16-100
Written by: Cassidy Salem
Buy the ebook:
Buy the Book On Amazon
This site contains affiliate links to products. We may receive a commission for purchases made through these links.