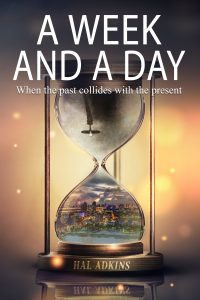 About A Week and a Day:
In a deadly aerial struggle for survival in the skies over the Pacific Ocean, World War II Marine Corsair fighter pilot David Hamilton's life suddenly and inexplicably moves in a mysterious direction, leaving him struggling to comprehend and cope with the surreal existence he suddenly finds himself cast into; a different time and place. With no choice but to enlist two young strangers' help in finding the how and why of it all, they embark on a mystical journey of discovery in a 1941 Ford Coupe, filled with the desperate hope of keeping a promise made to the most important person in David's life. And somehow find his way back home. Incredible revelations begin to emerge, as a showdown with three dangerous and evil beings draws ever nearer. A unique, captivating, and magical story of love lost, and redemption found, when the past, collides with the present. Kindle, $2.99, always Free on Kindle Unlimted.
Targeted Age Group: 18-99
Written by: Hal Adkins
Buy the ebook:
Buy the Book On Amazon
—>
This site contains affiliate links to products. We may receive a commission for purchases made through these links.