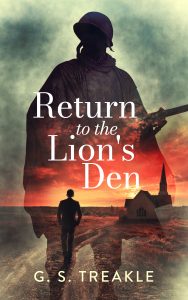 About Return to the Lion's Den:
Note: Kindle version discounted to $0.99 during December 4-10, 2023.
When eighteen-year-old Daniel MacRae escaped his father's alcoholic abuse in 1981, he left his Indiana hometown, uncertain he would ever return. In the years that followed, he pursued an education and embarked on a very successful career in broadcast journalism.
In April 2005, as Daniel is settling into his new role as a senior network news executive, he receives a desperate plea from his estranged mother to come home and help deal with the affairs of his dying father, Jerome. Despite his reluctance, he returns for a difficult and emotional reunion. While pursuing his new assignment, Daniel resolves to forge a new bond with his father and rebuild his broken family. However, before he can do so, he must first unearth the truth about an unspeakable event from Jerome's past.
Targeted Age Group: 16+
Written by: Greg Treakle
Buy the ebook:
Buy the Book On Amazon
—>
This site contains affiliate links to products. We may receive a commission for purchases made through these links.