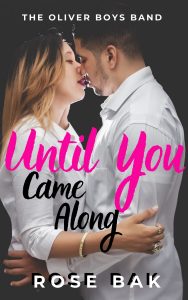 About Until You Came Along:
He's supposed to be watching the rock stars, not their sister…
Jen has been managing her family farm alone for years while her famous brothers tour the world. With their record contract expiring, the guys head home to mend fences with their estranged sister and think about their future. But when the band's bossy security chief Nick moves in too, sparks fly.
Nick is ready to put down roots, but Jen knows better than to trust someone just passing through town. She's not ready to let down her walls. Unfortunately for her, Nick knows just the way to break them down.
Is it a summer fling, or will their love last?
"Until You Came Along" is the first book in The Oliver Boys Band series. This steamy standalone romcom features a strong independent heroine, a hot alpha security chief, four meddling brothers, and a romantic HEA.
Targeted Age Group: 18 and over
Written by: Rose Bak
Buy the ebook:
Buy the Book On Amazon
Buy the Print Book:
Buy the Book On Amazon
Author Bio:
Rose Bak has been obsessed with books since she got her first library card at age five. She is a passionate reader with an e-reader bursting with thousands of beloved books.
Although Rose enjoys writing both fiction and nonfiction, romance novels have always been her favorite guilty pleasure, both as a reader and an author. Rose's contemporary romance books focus on strong female characters over age 35 and the alpha males who love them. Expect a lot of steam, a little bit of snark, and a guaranteed happily ever after.
Rose lives in the Pacific Northwest with her family, and special needs dogs. In addition to writing, she also teaches accessible yoga and loves music. Sadly, she has absolutely no musical talent so she mostly sings in the shower.
Follow the author on social media:
Learn more about the writer. Visit the Author's Website
Facebook Fan Page
Twitter
Instagram
Pinterest
This site contains affiliate links to products. We may receive a commission for purchases made through these links.