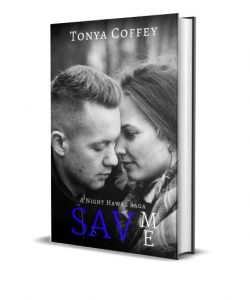 "About SAVE ME:
It took me three months to get back to riding my Harley. One month to admit to the club, Night Hawks, my mom was in rehab and I needed help with my little brother and sister. And it took one day for me to see that I would walk through fire for my candy striper, Kady Gilreath.
When Kady's boyfriend pulls her into a life of abuse, drugs and death, I won't stand by and watch her become one of the missing. I'll dive into the chaos, embrace old friends and prove some people aren't what they seem.
When the smoke clears, I'll be at Kady's mercy and she'll be faced with the choice of saving me…
Targeted Age Group: 12 and up
Written by: Tonya Coffey
Buy the ebook:
Buy the Book On Amazon
This site contains affiliate links to products. We may receive a commission for purchases made through these links.