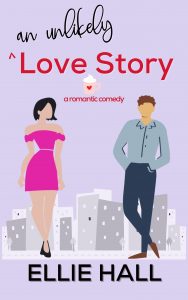 About An Unlikely Love Story:
Falling in love is against Hazel's rules. Maxwell doesn't care about rules, rather recipes. But will he whip one up for a happily ever after?
My full name is Hazel Loves, yes really, but I have no interest in relationships. In fact, I live by three rules:
1. Never meet the pets, parents, or best friend.
2. Never date the same guy twice.
3. Never fall in love.
That's a lot of nevers. I thought I was a rebel and not above breaking rules until I broke my own.
A vanilla latte with a heart in the foam formed a crack in my exterior. Then the batch of chocolate chip cookies softened something inside. Never mind, scratch that, it was Maxwell—my neighbor.
As I struggle with being strong, single, and on the scene and the mushy, melty, romantic within, I try desperately not to fall in love. But what's wrong with falling if you have someone with dark tousled hair, refined yet ruggedly handsome features, and chiseled arms to catch you?
Nothing. Nothing at all.
Scratch that. Everything.
Targeted Age Group: Adult Women
Written by: Ellie Hall
Buy the ebook:
Buy the Book On Amazon
Buy the Print Book:
Buy the Book On Amazon
Author Bio:
Ellie Hall is an enthusiast of puppies, books, and the ocean. She writes clean, swoony romance with lots of firsts and fizzy feels. Oh, and warm chocolate chip are her fave. She believes in dreaming big, working hard, and lazy Sunday afternoons spent with her family and dog in gratitude for God's grace.
Follow the author on social media:
Learn more about the writer. Visit the Author's Website
Facebook Fan Page
Twitter
Instagram
This site contains affiliate links to products. We may receive a commission for purchases made through these links.