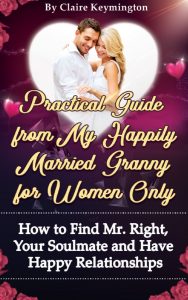 "About "Practical Guide from My Happily Married Granny for Women Only: How to Find Mr. Right, Your Soulmate and Have Happy Relationshipshttp":
FINDING the RIGHT MAN
You Need to Know This before Marriage to Avoid Wrong Decision, Mistakes and Divorce
Written by: Claire Keymington
Buy the ebook:
Buy the Book On Amazon
This site contains affiliate links to products. We may receive a commission for purchases made through these links.