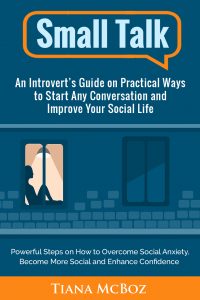 "About Small Talk: An Introvert's Guide on Practical Ways to Start Any Conversation and Improve Your Social Life:
– I am totally self-sufficient and I need no one in my life.
– Why bother going out when I don't know what to say when I am out?
– How do I even start a Conversation?
– Even if I start a conversation, would the connections really last?
– Do you feel scared and uneasy whenever you are at a social function?
Sound familiar? I was exactly like you, an introvert who wanted badly to become more social but felt held back from doing so.
Eventually, I succeeded to stay introverted while being outspoken and social.
Now, when I go out, everyone around me thinks that I am an extrovert. When I tell them my story, they don't believe it.
This inspired me to share my journey with others who may either be introverted or striving to improve their social skills.
Let me tell you how in my book…
Targeted Age Group: All
Written by: Tiana McBoz
Buy the ebook:
Buy the Book On Amazon
—>