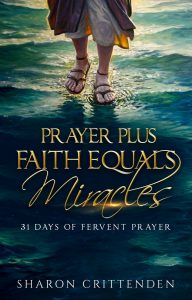 "About Prayer Plus Faith Equals Miracles: 31 Days of Fervent Prayer:
I remember there was a time that I wanted to pray…but I couldn't find the words!
Do you struggle to find the right words to pray? Praying to God may feel foreign or like a ritual, and adding to that frustration, it seems God isn't listening. This book will show you God not only listens but also answers according to your faith!
Maybe you know how to pray regularly and are looking for a tuneup for your prayer life. This book is for you, too.
As we watch the news, child murders, kidnappings, gun violence and domestic violence is overtaking our world. In this day and time, war room prayers spiritual warfare is what's needed!
If you don't pray, there will come a time you wish you did. If you like Michelle Obama's new book Becoming, or looking for an advent companion, add this to your library!
This book will guide you to simple and easy steps to pray the scriptures and manifest the victory, blessings and God for your life.
In this book, you will learn five ingredients of fervent prayer that will help you pray:
prayers for healing and recovery
prayers for strength and confidence
prayers about peace and serenity
prayers for your spouse and forgiveness
prayers for anxiety and depression
Take the journey to prayer and becoming a better you!
Click now to redeem your kindle unlimited ebook.
Targeted Age Group: 35-65
Written by: Sharon Crittenden
Buy the ebook:
Buy the Book On Amazon