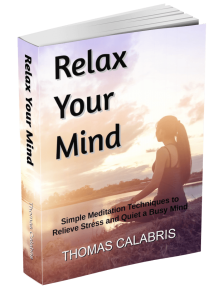 "About Relax Your Mind:
Do you experience stress on a daily basis? Does your mind race when you try to go to sleep? Do you find it difficult to relax? In "Relax Your Mind", Qigong Instructor and Health and Wellness Coach Thomas Calabris discusses what stress is, how it affects your mind and body, and presents a step-by-step approach to stress relief and relaxing your mind through meditation.
In this book, you'll learn how to:
* Calm and relax your busy mind.
* Reduce stress by inducing a relaxation response.
* Use abdominal breathing to relax.
* Let go of worrying over past or future events.
* Live in the present moment.
* Retrain your mind to eliminate negative thoughts and fears.
From the book:
"These are the techniques that I choose to return to especially when I have been taken down one of those stressful paths and find myself stressed and out of balance. So I take action with these techniques to keep myself from being stuck in stress and fear and to transform them into stepping stones for an empowered life."
If you are looking for a natural and cost-effective solution for reducing the effects of stress, improving your health, calming your mind, and achieving inner peace, then this book is for you.
Targeted Age Group: 18-65
Written by: Thomas Calabris
Buy the ebook:
Buy the Book On Amazon
Buy the Book On Barnes & Noble/Nook
This site contains affiliate links to products. We may receive a commission for purchases made through these links.