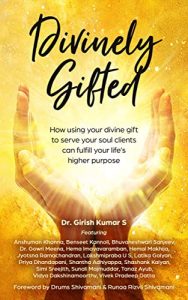 About Diviney Gifted:
Everyone has a Divine Gift. Even you. Are you ready to find out what it is?
The 18 authors in this book didn't stop with discovering their Divine Gift. They chose to share their gifts with the world.
These gifts are varied. They range from healing trauma and releasing energy blocks to monetizing talents and interests. They support those recovering from broken relationships to those seeking financial independence. They serve the environment to leave the world a better place and teach pet parents to give their fur children a better life.
Using their Divine Gifts has changed their lives. And now, they're sharing their stories so you can do the same.
If you are looking for a greater purpose in your life, this book is for you. Find out how you are uniquely and Divinely Gifted. And how you can put these gifts to use. Not just to benefit others but also to experience fulfillment and joy. The way you were meant to live!
Targeted Age Group: 20- 70
Written by: Dr Girish Kumar s
Buy the ebook:
Buy the Book On Amazon
—>
This site contains affiliate links to products. We may receive a commission for purchases made through these links.