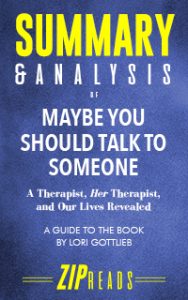 "About Summary & Analysis of Maybe You Should Talk to Someone:
In Maybe You Should Talk to Someone, popular writer Lori Gottlieb has managed to provide a moving, uplifting, and surprisingly entertaining insight into the human condition by relating her patients' and her own difficult struggle toward resolution through therapy.
Targeted Age Group: ALL
Written by: ZIP Reads
Buy the ebook:
Buy the Book On Amazon
This site contains affiliate links to products. We may receive a commission for purchases made through these links.