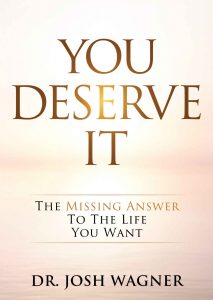 "About You Deserve It: The Missing Answer To The Life You Want:
In his groundbreaking book, YOU DESERVE IT, renowned international speaker and mindset coach
Dr. Josh Wagner reveals an incredibly simple new pathway to fulfillment. His pioneering work demonstrates how unconscious undeserving beliefs are the obstacle standing in the way of your goals, happiness and peace of mind.
Here, Dr. Wagner leads you through his revolutionary 3-step Deserving Process, combining clear explanations, doable action steps and practical exercises to move you through life's toughest challenges to achieving your biggest dreams.
Targeted Age Group: Adults
Written by: Dr. Josh Wagner
Buy the ebook:
Buy the Book On Amazon
—>
This site contains affiliate links to products. We may receive a commission for purchases made through these links.