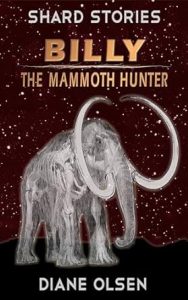 About Billy the Mammoth Hunter (Shard Stories):
Multi-award-winning novelist and writer of the "Rising Wind" novel series asks: "What happened to Billy Riggins? Many are involved in the search; most never met him, but will anyone find him?"
Now, the author introduces you to a unique and exciting shard story titled "Billy the Mammoth Hunter!" Are you a fan of archeology based on realistic science?
Then you will surely enjoy this new in-depth and enriched story with Billy from its predecessor, 'The Thunder Beings" of "Rising Wind." It is an edge-of-your-seat, fast-moving plot of thrilling action, crime, and romance.
( Kindle on Amazon on sale for $2.99 now through Nov. 30th, 2023. )
Targeted Age Group: All Ages
Written by: Diane Olsen
Buy the ebook:
Buy the Book On Amazon
—>
This site contains affiliate links to products. We may receive a commission for purchases made through these links.