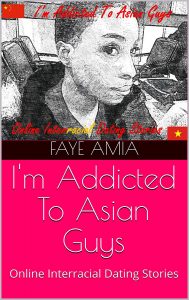 "About "I'm Addicted To Asian Guys: Online Interracial Dating Stories" by Faye Amia.:
When I was 19 years old, my life changed.
I stopped practicing my religion, had sex for the first time, and started dating Asian guys exclusively.
I was obsessed with Asian guys.
It all started when I was in high school.
I enrolled in a Mandarin class.
I came to love the language and started watching Chinese music videos to increase my vocabulary in Mandarin.
That's when I realized how hot Asian guys were.
From that point on, I was hooked.
Here's the thing…
I was an EXTREMELY shy person, so I wouldn't dare hit on a guy, especially a guy I wasn't even sure was attracted to me.
That's when I started using Craigslist (which is one of the most popular online classifieds websites).
In the personal ad section, I posted an ad seeking Asian guys that were attracted to African-American women.
I did not include a picture of myself initially for privacy reasons but instructed any interested ones to email me if they were open to the idea of dating a Black woman.
To my surprise, the responses flooded in.
In this book, you will find out how I lost my virginity, almost got arrested, and was unknowingly a mistress.
Targeted Age Group: 18+
Written by: Faye Amia
Buy the ebook:
Buy the Book On Amazon
—>