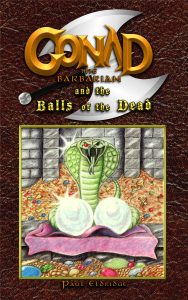 "About Gonad The Barbarian and the Balls of the Dead:
In the lost years between the time that the oceans drank Atlantis and the rise of the sons of Anus, a great warrior travelled the land, searching for his long lost brother, axe in hand, shield on arm, maybe stopping for the odd drink and a bite to eat, he was… a big hairy nut named Gonad the Barbarian. Join this great warrior in an adventure entitled Gonad the Barbarian and the Balls of the Dead. Will he escape a battering from a bunch of Aesols? Will he survive the terrors of the ancient lost city? And is it opening time yet? A silly book for adults, containing silly content and adult content.
Targeted Age Group: 15+
Written by: Paul Eldridge
Illustrated by: Paul Eldridge
Buy the ebook:
Buy the Book On Amazon
This site contains affiliate links to products. We may receive a commission for purchases made through these links.