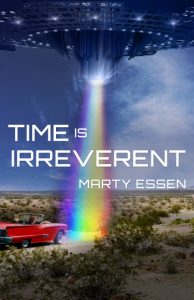 "About Time Is Irreverent:
An irreverent, liberal, twisty, time travel comedy!
What if you could change history to eliminate slavery, World War II, the Spanish Inquisition, global warming, and an egomaniacal nuclear-bomb-dropping US president? What if that change also made 5 billion people poof from existence? Would you do it? Time Is Irreverent explores those questions, as benevolent aliens send Marty Mann to AD 31 to correct an error in history.
Spanning from the Cretaceous period to 2056, Time is Irreverent is a hilarious, thought-provoking satire, with unpredictable twists, colorful aliens, huge dinosaurs, a smokin' hot lesbian from the future, and a cameo from Jesus Christ himself!
"Ironic, original, hysterically funny, deftly crafted, and an impressively entertaining read from first page to last"—Midwest Book Review
Targeted Age Group: 18+
Written by: Marty Essen
Buy the ebook:
Buy the Book On Amazon
This site contains affiliate links to products. We may receive a commission for purchases made through these links.