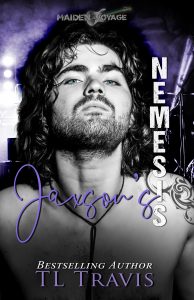 About Maiden Voyage: Jaxson's Nemesis (Maiden Voyage Series Book 3):
Jaxson Duvall, bass player for the band Maiden Voyage wasn't born into wealth or fame. He achieved it with hard work and a need to prove himself. To whom, well, that is the million-dollar question right there. When his foolish antics threaten to bankrupt him, it's time for him to stop acting like a spoiled brat and grow the hell up before his band brothers find a new bassist.
Shephard "Shep" Newsome was the opposite. Thrust into the limelight at birth and cast out damn near the same way. When his indiscretions tarnished his family name, his father said no more. Humiliated, shamed, and shunned, he moved away to begin anew but trouble still seemed to find him. Tired of running, he puts down roots only to find himself right smack in the middle of it once again.
What happens when a Rockstar with more money than brains clashes with his neighbor who has a chip on his shoulder the size of Texas?
You have a recipe for disaster… or rage-infused love.
Maiden Voyage series must be read in order as each book starts where the last one ended but is from another band members point of view:
1 – Ryder's Guardian
2 – Derek's Destiny
3 – Jaxson's Nemesis
4 – Shadow's Light
Targeted Age Group: 18
Written by: TL Travis
Buy the ebook:
Buy the Book On Amazon
Author Bio:
TL Travis is the published author of a plethora of LGBTQ+ Erotica and Romance musings that have earned her a "Best Selling Author" flag in the US as well as Internationally.
In her spare time, when she's not weaving steamy webs, she enjoys fishing, wine tasting and people watching. Everyone has a story to tell, half the fun is conjuring what it is.
TL's surrounded by her 4-legged rescue family, her sons and adorable grandson.
She will continue saving furry friends in need for as long as she can. Tl would like to remind you to "Adopt, not shop." Saving that lost soul may very well save yours.
Follow the author on social media:
Learn more about the writer. Visit the Author's Website
Facebook Fan Page
Twitter
Instagram
Pinterest
YouTube
This site contains affiliate links to products. We may receive a commission for purchases made through these links.