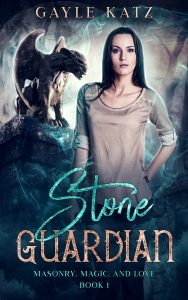 About Stone Guardian: A Sweet Paranormal Gargoyle Romance:
Gargoyles are immovable statues of stone. Lifeless, the librarian thought, until one of them takes flight to save her from an untimely demise.
A kindhearted but lonely librarian. Nancy is drowning under the weight of an abusive boyfriend, failing grades, and looming unemployment. While at work, she confides her deepest, darkest secrets to the gargoyle perched near her desk. But she's unprepared when the strange stone statue comes to life.
A gentle gargoyle born under a curse. Treyton can't believe it. In the past century that he's been guarding the beloved Victorian library he calls home, the lonesome man never had anyone notice him until now. And he's enchanted by the beautiful woman yearning for true love under his watchful gaze. But the witch who gave him life wants him back. And she's willing to kill anyone who stands in her way.
As his vile witch plots against them, will Nancy and Treyton be torn apart forever, or can they overcome the evil threatening their love — and their lives?
Stone Guardian is the captivating first novel in the Masonry, Magic, and Love sweet paranormal romance series. If you want all of the dreamy romance, heroic beasts, and paranormal magic without the steam (or eggplants), you'll adore Gayle Katz's spellbinding gargoyle shifter romance.
Targeted Age Group: All Ages
Written by: Gayle Katz
Buy the ebook:
Buy the Book On Amazon
Buy the Book On Barnes & Noble/Nook
Buy the Book On Apple Books
Buy the Book On Kobo
This site contains affiliate links to products. We may receive a commission for purchases made through these links.