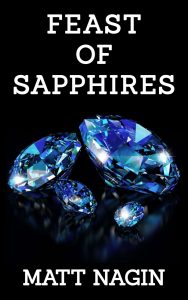 "About Feast of Sapphires:
Feast of Sapphires is a compendium of a wide variety of poems, covering topics both timely and universal. There are poems of psychic revolution (for those ready to put down the Kool-Aid), poems about pretense and gun control, poems about MRI's, gambling, and mystical storms of all varieties; then, too, on a deeper level, more than a few of these poems are about the desire to surmount the collective facade in search of a kind of truth that cannot be hyperlinked.
Located from Costa Rica to the LIRR, this metaphysical cartography of anticipation and despair is perfect for those seeking existential answers in the bottom of the tea, in the resonance of a thunder storm, or, even, in the ethereal high of a linguistic flight of fancy. From comedic monologues to existential reflections, from angry rants to insightful commentary, from wily narratives to verbal pyrotechnics, this book aims to make you feel that, in these dystopian times, poetry is, more than ever, relevant and necessary.
Targeted Age Group: 18-101
Written by: Matt Nagin
Buy the ebook:
Buy the Book On Amazon
Buy the Book On Barnes & Noble/Nook
This site contains affiliate links to products. We may receive a commission for purchases made through these links.