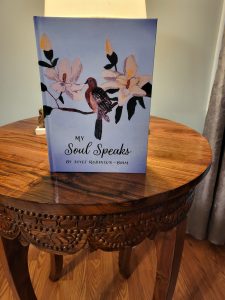 About My Soul Speaks:
My Soul Speaks is a collection of poems from the heart of the author. It is a very diverse book of spiritual poems and adoration to a loving and omnipotent God. My Soul Speaks
glorifies nature in its purest form as seasons of promise and cherished memories. Poems about life and love tears at the heartstring with a hint of refreshing wisdom. The author steals your heart as she shares raw emotions about issues of generational pain and triumph. She begins the book with the poem "Frozen Fire" which depicts her being reborn and rising up from the ashes like the Phoenix. Her poem, "My Journey," tells of her life of challenges, setbacks and victory over defeat. The author so lovingly honors her deceased parents in poems of songs that memorialize their unique lives in a way that they would be most proud of. The author gives her version of a heavenly union in the poem entitled "Celestial Dance" where angelic music and adoring angels praise and give reverence to God. In the section of the book entitled Angels All Around Us, the author shares experiences of angelic presence that are awe-inspiring. In other poems, she reflects on her happy childhood experiences and shares poems of laud and honor to her Lord and savior.
At the end of the book is an anthology of Christmas poems, poems of comfort and birthday sentiments. The author's art work is displayed in each section of the book, as well as the front and back cover so that her readers will have poems for the soul and art for the spirit.
Targeted Age Group: 25 and up
Written by: Joyce Robinson-Brim
Buy the ebook:
Buy the Book On Amazon
—>
This site contains affiliate links to products. We may receive a commission for purchases made through these links.