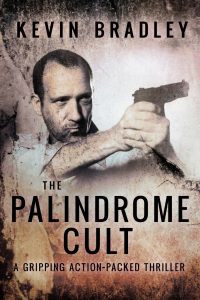 "About The Palindrome Cult:
Blackmail is a dangerous game. But when the US Ambassador to London and the British Prime Minister are caught up in it, the situation becomes deadly.
The Palindrome Cult members are fanatical. They will stop at nothing to achieve their aims. But who are they? And who is their elusive leader?
Hedge and Cole must hunt them down, before the government is fatally damaged, and before more people have to die.
This is a novel in the acclaimed Hedge & Cole thriller series.
Cole is a tough, ex-military man. He's the sort of person that trouble and danger seem to follow.
Hedge is a reluctant hero. Plagued with anxieties and haunted by flashbacks, he is not what you might be expecting.
Will you be able to unravel the secret of the Cult before the ultimate, shocking, twist in the tail?
Kevin Bradley mixes fast-paced action with suspense and intrigue. But be warned, some of the narrative descriptions used in this book are not for the faint-hearted!
This book would sit well alongside your Lee Child and Michael Connelly favourites!
Targeted Age Group: 30+
Written by: Kevin Bradley
Illustrated by: Kevin Bradley
Buy the ebook:
Buy the Book On Amazon
—>