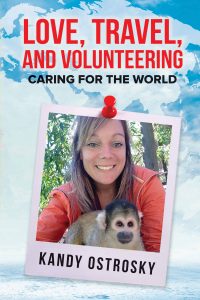 About Love, Travel, and Volunteering Caring for the World:
Experience the challenges and joys of making a difference while meeting new friends all over the world
Many people dream of seeing the world and making a difference. Not everybody will act on that dream, an undertaking that can be scary and overwhelming. Kandy puts those feelings aside and sets off to volunteer as a nurse in Peru. But things do not always work out as expected. Kandy does not know that she will end up doing voluntary work as a nurse in Guatemala, with children in Thailand and South Africa, and dogs in Jamaica and Mexico. She is left stranded in the middle of nowhere, jumps off the world's highest commercial bridge, connects with monkeys, snorkels with seals, and so much more!
Will the joys of her self-discovery journey outweigh the hardships, or will she want to return to a stable life in Canada?
Love, Travel, and Volunteering is a travelogue about self-discovery and making a difference. It captures the many obstacles that need to be overcome as a solo traveller. This travelogue is a must-read for those who love books that take them around the world and talk about different cultures as well as the challenges and joys of volunteering abroad.
Targeted Age Group: 16
Written by: Kandy Ostrosky
Buy the ebook:
Buy the Book On Amazon
—>
This site contains affiliate links to products. We may receive a commission for purchases made through these links.