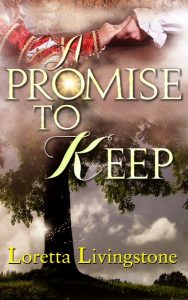 "About A Promise to Keep:
1197/2012
For the last five years, Marion has kept the promise she made to a medieval knight, one Giles de Soutenay, to deliver two Epipens every year at Whitsuntide via the mystical beech tree which once catapulted her back in time. As long as Giles is able to provide these devices for Prince John, he will be able to keep his lands…and his life.
But this year, Marion is in hospital. Desperate to keep her word, she entrusts the devices to Shannon, her daughter. Shannon only has to place the Epipens in a hollow in the roots of the old tree. However, she has recently been betrayed by the man she trusted. Still hurting and embarrassed by the pity she sees in the eyes of her friends, she just wants to get as far away as possible. And she can't get much further away than the twelfth century.
Hildegarde, Abbess of Sparnstow, is expecting a visit from Giles. She is not expecting a young woman from 2012. As Shannon stumbles her way through the social niceties of the twelfth century, she will discover that some things never change.
Although this is book 2 in the Out of Time series, it can be read as a standalone novel. It was published as second in the series, but chronologically, it comes after book 3, Blossom on the Thorn.
Genre: Timeslip/Historical Fiction
'The medieval world is nicely described, well researched and the characters, especially the abbess, are entirely believable. If you want an enjoyable romp with a modern take on medieval life, then read A Promise to Keep. It will not let you down.'
Jen Black, Discovering Diamonds.
Targeted Age Group: general
Written by: Loretta Livingstone
Buy the ebook:
Buy the Book On Amazon
This site contains affiliate links to products. We may receive a commission for purchases made through these links.