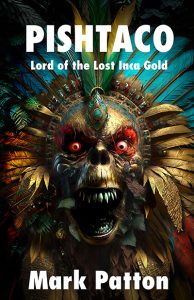 About Pishtaco: Lord of the Lost Inca Gold:
Join Penelope Augusta Gertrude Farquhar and her unusual companions on a thrilling adventure through the Amazon rainforest in search of the fabled city of Paititi and the lost Inca gold of Atahualpa. But their journey is far from easy, as they encounter a pantheon of Inca gods and goddesses, tribal people of the Amazon, and a deadly shaman named Pishtaco. With twists and turns at every corner, "Pishtaco: Lord of the Lost Inca Gold" is a gripping historical fantasy that blends history, mythology, and humor to create a truly unique and unforgettable reading experience.
Targeted Age Group: 13-55
Written by: Mark Patton
Buy the ebook:
Buy the Book On Amazon
—>
This site contains affiliate links to products. We may receive a commission for purchases made through these links.