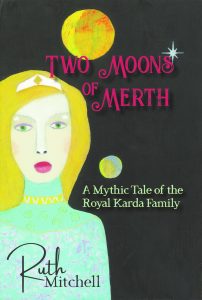 About Two Moons of Merth:
Written in the whimsical tone you will find in Neil Gaiman's Stardust, Two Moons of Merth takes listeners to an extraordinary planet—where adventure and danger await. Aadya, the main character, begins life as a lowly peasant, but her goals are mighty, and she finds her way to becoming the queen of all the land. Her mission in life is to gain respect for herself and all the other women of Merth. Through her heroic efforts, she changes her society and elevates the status of all women once referred to as "breeders".
Follow the Karda family through two generations in this alluring tale as they lead their people with the guidance of the Matong and kinetic sight. This imaginative saga of quests, romance, intrigue, and magic will have you spellbound as you listen to find out what happens next.
Targeted Age Group: adults
Written by: Ruth Mitchell
Buy the ebook:
Buy the Book On Amazon

Buy the Audio Book:
Buy the Book On Amazon
Buy the Print Book:
Buy the Book On Amazon
Buy the Book On Barnes & Noble/Nook
Buy the Book On Walmart
Author Bio:
Ruth Mitchell has led an exciting and adventurous life through her careers as a novelist, freelance writer, travel writer, publisher, editor, columnist, entrepreneur and jewelry designer. Her non-fiction articles have appeared in Art & Antiques, The San Francisco Bay Guardian, American History, Fodor's USA Travel Guide and Fodor's Great American Vacations, Watercolor, American Style, Niche, Wedding Dresses, and Sailing magazines. Ruth also wrote Arkansas Heritage, a state adopted Arkansas history textbook for elementary aged children.
Ruth's recently published novel Two Moons of Merth has been compared to Margaret Atwood and Haruki Murakami's work. She has two other novels out, Beyond: A Tale of Discovery on the Other Side of Life and her first novel, White Oak: A Steamy Tale of Love and Seduction. Ruth has also written a helpful book on Codependency Recovery titled, Living Happy Joyous and Free. It is a collection of her columns written for the One Day at a Time newspaper.
Her contributions to the Writer's Colony of Dairy Hollow's online Emerge magazine was included in the Award-winning Dairy Hollow Echo which received a 2022 International Book Award hosted by American Book Fest.
To get the latest updates on Ruth's publishing history, you can follow her on Goodreads at: https://www.goodreads.com/author/show/20017139.RuthMitchell or follow her on Amazon to receive the latest updates.
Follow the author on social media:
Learn more about the writer. Visit the Author's Website
Facebook Fan Page
LinkedIn
This site contains affiliate links to products. We may receive a commission for purchases made through these links.