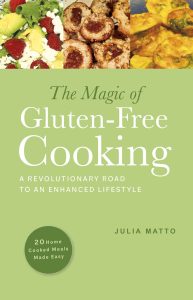 About The Magic of Gluten-Free Cooking:
Discover how a healthy, gluten-free diet can transform your health with these easy, scrumptious, home-cooked recipes. Inside, you will discover:
● 20 easy-to-prepare recipes to enjoy an enhanced and energetic lifestyle
● Detailed ingredient lists and clear instructions with added suggestions and dairy-free options
● The gluten-free way to start every day – breakfasts so good, you'll never say never!
● How each home-cooked meal is a doorway to better digestive health, mood, and focus: a gluten-free mind and body leads to a disease-free life
● Fulfilling lunches to make easy yet exquisite meals – grab your herbs, veggies, shrimp, chicken, and pasta to make your tastebuds do the tango!
● Mouth-watering dinners you simply cannot do without!
● How to maximize the benefits of anti-inflammatory herbs and spices to make your dishes aromatic, delicious, and healing
Adopting a gluten-free diet is your ticket to a new way of living – you'll feel like you've been born again from within.
Targeted Age Group: 20-80
Written by: Julia Matto
Buy the ebook:
Buy the Book On Amazon

Buy the Print Book:
Buy the Book On Amazon
Author Bio:
Julia Matto is the author of The Magic of Gluten Free Cooking.
Her work is dedicated to gluten-free cooking, aiming to equip readers with the information and skills they need to enjoy a happy and healthy lifestyle fueled by their own home cooking.
Prior to becoming an author, she worked as an Administrative Assistant to the Counseling Department in the school system, honing key organizational skills.
Julia struggled with digestive and metabolic issues for years before understanding the power of a gluten-free diet. As she began to shift her lifestyle and eliminate gluten, she felt the changes in every area of her life. As her symptoms improved, she discovered a new lease on life and a passion for helping other people to reap the same benefits.
Inspired by the vast knowledge of Dr. Ashton Caskey, DC, ND, she began writing and sharing the lifestyle changes that have made such a difference to her. Julia has retired from a career in education and has also run several e-commerce businesses. Her organizational and soft skills now come into their own in her new venture as a writer.
Julia lives in Connecticut with her husband. Her daughter (who is her most loyal cheerleader) lives next door. The author lives an active life, and loves creating healthy meals for her family and friends; gardening; and playing with her family's French bulldog
 
Follow the author on social media:
Learn more about the writer. Visit the Author's Website
This site contains affiliate links to products. We may receive a commission for purchases made through these links.