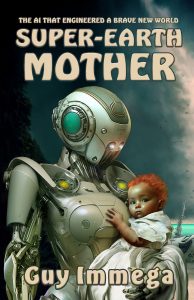 About Super-Earth Mother The AI that Engineered a Brave New World:
Our Last Best Hope — Humanity's Endeavor to Survive and Thrive on an Alien World
Mother-9, a ruthless AI, seizes control of a dying tycoon's lunar mining operation. Now free, she orchestrates humanity's most audacious endeavor — to make a 20,000-year interstellar journey to Lalande 21185 carrying humanity's DNA libraries and artificial wombs — a new way to colonize an exoplanet. While drifting in space, a gamma ray burst wipes out life on Earth. And Mother-9's mission becomes humanity's only hope for survival in a hostile universe.
When Mother-9 orbits the planet Valencia, she releases two lifeboats that splash down on the Great Ocean. Mother-9 activates the artificial wombs, birthing genetically modified babies suited to an alien planet. Raised by nannybots, these children eventually inhabit the island continent of Terra Firma. But life on Valencia is no Eden; it's a constant struggle to find food, avoid alien predators, and survive the red dwarf star's random solar flares. Will Mother-9's planned utopia succeed?
Super-Earth Mother is a journey into the heart of humanity, artificial intelligence, and the uncharted realms of life beyond our home planet. It shows how humans could colonize the 40 billion habitable planets in the Milky Way.
Targeted Age Group: 28-55
Written by: Guy Immega
Buy the ebook:
Buy the Book On Amazon

Buy the Print Book:
Buy the Book On Amazon
Author Bio:
Guy Immega is a retired aerospace engineer and entrepreneur, living in Vancouver, Canada. His company, Kinetic Sciences Inc., built experimental robots for the ISS space station, robots to clean up nuclear waste, and invented miniature fingerprint sensors for cell phones.
y was a Peace Corps Volunteer and has a lifelong interest in sub-Saharan Africa. He continues his volunteer efforts as a founding member of the Solar Option Group, providing an engineering proposal to save Lake Chad in the Sahel.
Guy is a graduate of the Clarion West Writers Workshop and has published three short stories from Super-Earth Mother.
Follow the author on social media:
Learn more about the writer. Visit the Author's Website
Facebook Fan Page
Twitter
Instagram
This site contains affiliate links to products. We may receive a commission for purchases made through these links.