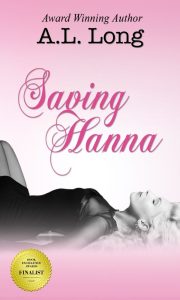 About Saving Hanna:
Award winning author A.L. Long, brings together a love so pure and unconditional. It will keep you on the edge of your seat.
For as long as Hanna can remember she always did everything she could to keep her brother Carter out of trouble. She soon finds out that not even your own family can be trusted and blood isn't thicker than water. Losing the only home, she knew to her brother's greed, Hanna does everything she can to make a new life for herself and get back the life she once knew.
Hanna never thought Aiden Drake would be the one person who could give back what was taken from her. All it would take is one night, only that one night never comes when revenge comes knocking and the one man to save her is also the one man with more greed than her brother.
Targeted Age Group: 18+
Written by: A.L. Long
Buy the ebook:
Buy the Book On Amazon
Buy the Book On Barnes & Noble/Nook
Buy the Book On Apple Books
Buy the Book On Kobo
Buy the Print Book:
Buy the Book On Amazon
Author Bio:
Award-winning Author of the Independent Press Award and NYC Big Book Award. A.L. Long is also the recipient of the National Indie Excellence Award.
Some would call me a little naughty, but I see myself as a writer of spicy thoughts. Being a romance writer is something that I never imagined I would be doing. There is nothing more rewarding than to put your thoughts down in words and share them. I began writing in 2013 and have enjoyed every minute. When I first started writing, I wasn't sure what I would write. It didn't take me long to realize that romance would be my niche. I believe that every life deserves a little bit of romance; a little spice doesn't hurt either. When I am not writing, I enjoy the company of good friends and relaxing with a delicious glass of red wine.
Visit me at www.allongbooks.com for all of my new releases and book signing events.
Follow the author on social media:
Learn more about the writer. Visit the Author's Website
Facebook Fan Page
Twitter
Instagram
This site contains affiliate links to products. We may receive a commission for purchases made through these links.