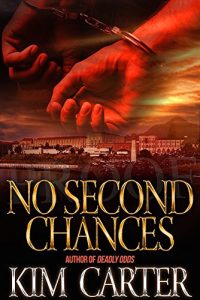 About No Second Chances:
By Award-Winning Mystery writer and Author, Kim Carter comes "No Second Chances."
"From wealthy Los Angeles to the justice in San Quentin and the serene landscapes of Maine, you will applaud the friendships and hear the cry as you ride the roller coaster of emotions this story will bring."
Falling from a life of wealth and substance to inside one of America's most notorious prisons, prominent orthopedic surgeon Phil Sawyer is incarcerated for the voluntary manslaughter of his wife.
While confined, he finds himself on the trail of a serial killer that infiltrates the walls of San Quentin. After finding himself in the infirmary for getting involved in an incident that didn't concern him, Phil struggles with the decision to stick his neck out. But he can't ignore the rise in suspicious deaths among African American inmates.
With the aid of an empathetic nurse and help from the outside, he tries to identify the unexplained cause of their cardiac arrests. He finds himself out on early release and heads to Solomon Cove, a peaceful town in Maine.
But, could the tranquil town all be a façade, or has the serial killer made their way across the country to seek revenge?
Targeted Age Group: 18-up
Written by: Kim Carter
Buy the ebook:
Buy the Book On Amazon

Buy the Print Book:
Buy the Book On Amazon
Author Bio:
Kim Carter is an award-winning author and critically acclaimed writer of gripping suspense, chilling thrillers, and haunting historical mysteries.
Ms. Carter is widely known for her vibrant characters in her Clara and Iris Mystery series, a couple of overly curious widows who turn into private investigators. These funny women were inspired by Kim's mother and her mom's best friend. Book one of this series, Murder Among The Tombstones, was chosen Finalist for the 2018 Killer Nashville Silver Falchion Award and a recipient of the 2017 TCK Publishers' Readers' Choice Awards.
Ms. Carter's Mysteries and literary works include; Sweet Dreams, Baby Belle, When Dawn Never Comes, Deadly Odds (chosen Editor's Pick in Books Shelf Magazine in 2022), No Second Chances, 'And The Forecast Called For Rain,' and her newest mystery Dark Secrets of the Bayou.
"Bayou" has been awarded a Reader's Favorite Editorial 5-Star Review, also chosen #1 Finalist for Best Historical Mystery from Reader's Favorite 2021 book awards, and was awarded a 2021 Killer Nashville Finalist for The Silver Falchion Awards. In 2022 "Bayou" was chosen by The Author Shout book awards as a Recommended Reads.
All of Kim's novels can be purchased online at Amazon in paperback and e-book. Kim's writing career started after she suffered an illness that made her housebound for a couple of years.
An avid reader of mystery novels herself, she embarked on writing to fill her time. Kim's health struggles and successes have been chronicled on The Lifetime Television in early 2000, The Atlanta-Journal Constitution, Women's Day Magazine, and Guidepost.
Now, with seven acclaimed mystery titles to her credit, Kim worked in many different capacities in county government. Still, her job as a correctional officer ultimately offered her opportunities to talk and interact with a diverse group of people. Her experiences run the gamete of inspiring success stories to tragic endings as she writes within her mysteries.
Kim began networking and made connections with numerous homicide detectives, medical examiners, and prison officials. Her research has taken her to many places, including morgues, death row, and the occasional midnight visit to cemeteries to gain material for her novels.
Kim is a Saint Leo University college graduate with a Bachelor of Arts in Sociology. When she is not writing, she enjoys gardening, is an avid reader, and is a proud mother of four beautiful grown children; she currently resides outside Atlanta, Georgia.
Follow the author on social media:
Learn more about the writer. Visit the Author's Website
Facebook Fan Page
Twitter
Instagram
This site contains affiliate links to products. We may receive a commission for purchases made through these links.