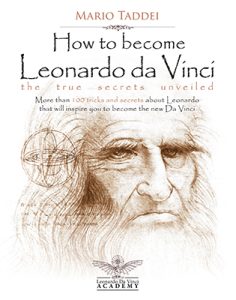 About How to become Leonardo da Vinci The true secrets unveiled:
How to become Leonardo da Vinci
The true secrets unveiled: More than 100 tricks and secrets about Leonardo that will inspire you to become the new Da Vinci!
A journey into Leonardo's mind to easily understand his secrets and techniques. You will learn the basic principles of becoming a new Da Vinci through a simple and understandable book. How do you learn to think like Leonardo?
We will discover the 100 principles of genius, to become like him, told through his works and drawings full of projects and mysteries, with a simple and direct language for children aged 6 to 99!
Becoming Leonardo is possible and the same Renaissance artistic rules of art, creativity and genius can now also be used with digital tools. Did Leonardo copy? What did you study? What creative techniques did he use? How are these techniques applied today, in the era of the metaverse?
We will learn the Renaissance tricks to create masterpieces, even with digital tools, and we will discover what was the source of Leonardo's creativity to make the genius within us grow!
"I've been studying Leonardo da Vinci for over 30 years. I have made exhibitions all over the world, built hundreds of machines and created multimedia software, books and research to introduce the greatest genius and artist of all time to the general public.
In the lessons and in contact with the public, however, I have always happened to meet people convinced that there is only one of Leonardo, and many others, disheartened, wondered how it was possible that such a "great" and unattainable person existed . Not to mention the people with whom I have often quarreled, convinced that Leonardo can only be born and it is not possible to become like him. How much more wrong and dangerous! Wrong because Leonardo's history and true knowledge will surprise us, only ignorance creates unreachable myths, dangerous because with an attitude of this type we kill in the birth, in our children and in our students, the desire to become the new Leonardo! I have finally published this book which has a revolutionary and powerful message: everyone can become Leonardo, certainly not easy, but it is possible.
In more than a hundred small chapters, written in a simple and understandable way, I searched and found the basic principles that led Leonardo to be what we know.
It will be surprising to find, for example, that there are ugly drawings, that Leonardo had copied some things, made mistakes and his other machines do not work. In short, there are explanations, techniques, principles and real secrets that can help us along the path of knowledge and art.
Becoming Leonardo is possible and what we have to do is not to clip the wings of our children, potential geniuses, who only need encouragement, guidance and help.In this book I try to give my contribution up to the point of art and technology digital contemporary usable as a tool for modern Da VInci.
If only one of the children (aged 6 to 99) who will read this book understands how to become Leonardo, and will not be afraid to try, I will have contributed to a better future for all of us. "
Mario Taddei
Targeted Age Group: 6-99
Written by: Mario Taddei
Buy the Print Book:
Buy the Book On Amazon

Author Bio:
Prof. Mario Taddei
Graduated in industrial design, Mario Taddei taught at the Milan Polytechnic. He has dedicated a large part of his activity to the study and development of interactive multimedia products for the dissemination of edutainment science. He has been involved in the study and research of Leonardo da Vinci since 1999 and has become one of the leading international experts.
Italian academic, he created Leonardo3 in 1999, then technical director and chief researcher of the Leonardo3 Study Center. He has designed and built complex multimedia and scientific dissemination systems for museums, an expert in Renaissance codes and machines. History of science expert. He has signed some discoveries and researches of world resonance on Leonardo's machines. He is an expert in programming, 3D graphics, video games, virtual reality development and multimedia applications.
During the event for the 150th anniversary of the Politecnico di Milano he received the CULTURE award: "Minds Shaping the World welcomes Mario Taddei among its members for the scientific rigor and extraordinary dissemination capacity that allowed him to make unpublished discoveries relating to Leonardo da Vinci and spread them all over the world. Mario Taddei is today considered one of the leading international experts of the genius from Vinci: his exhibitions, performances and installations have been presented over the years with enormous success both in Italy and abroad.
He is a digital artist and a designer of cultural events. Professor at the Leonardo da Vinci Art Academy in Milan. He teaches design, virtual set design, 3D and multimedia marketing.
Or simply google: Mario Taddei
www.mariotaddei.net & www.Neoart3.net
Follow the author on social media:
Learn more about the writer. Visit the Author's Website
Facebook Fan Page
Twitter
Instagram
Pinterest
LinkedIn
YouTube
This site contains affiliate links to products. We may receive a commission for purchases made through these links.