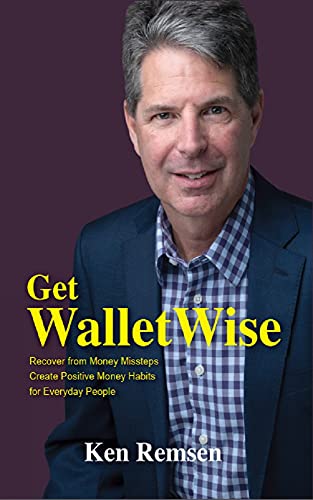 About Get WalletWise, by Ken Remsen:
Do you spend more than you earn? Get WalletWise teaches you how to manage your money, spend less than you earn, how to save the difference and achieve a positive money mindset. Learn how to budget consistently using modern apps or use the easily downloadable templates to get you started on paper. Ken shows you how to negotiate like a master to buy a car or buy real estate. Ken has made a few money missteps in his early, less successful days and he wants to share with you his secrets to secure your wellbeing.
Targeted Age Group: 25-50
Written by: Ken Remsen
Buy the ebook:
Buy the Book On Amazon

Buy the Print Book:
Buy the Book On Amazon
Author Bio:
As a money expert, Ken Remsen founded WalletWise, LLC, a Financial Coaching business, that helps people become debt free. Unlike many money experts, Ken did not grow up in an affluent home. Ken has seen firsthand the obstacles his family faced with their finances. His family had very little savings and spent borrowed money on unnecessary expenses.
Ken earned a degree in real estate and urban land economics from the University of North Florida by working full time in real estate. He worked during the day and scheduled his classes at college two days a week. He graduated with a four-year degree in three years.
For 3 decades, Ken has studied finance, bought and sold real estate and paid off all personal debt to help create a six-figure stock portfolio. Ken has experience managing and executing a Family Trust.
Ken Dedicates his Service to You
He is dedicated to help you get out of unnecessary debt and reduce your money anxiety. Ken wants you to avoid predatory lending scams, money missteps, and find happiness through living on less that you earn. He wants to teach you how to create positive money habits.
Best-Selling Author
Ken has just released his first book, Get WalletWise, the book that summarizes the many money principles Ken recommends.
Resource Filled Website
Ken fills his website www.walletwise.org with money resources to help you shop for the best credit card for you, download forms to help you manage your money, reduce your debt and contains a blog www.walletwise.org/blog with posts that revolve around personal finance.
Besides writing about all things personal finance, Ken enjoys reading, cycling to keep in shape and spending time with his friends in Toastmasters and the Central Florida Guild of the National Speakers Academy.
Follow the author on social media:
Learn more about the writer. Visit the Author's Website
Twitter
Instagram
LinkedIn
This site contains affiliate links to products. We may receive a commission for purchases made through these links.