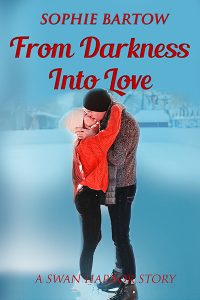 About From Darkness into Love:
How many times will you risk your heart for love?
Jessie has returned to Swan Harbor. Years ago, her life had been torn apart, not once, but twice. Cameron had saved her and captured her heart. Just when they thought they had it all, impossible demands sent her running from everything … and everyone she loved. Now that she's back home, will she put her heart on the line and give love a second chance?
Cameron Hunter is balancing on a cliff. After years of nursing his broken heart, it has finally been put back together. An unexpected meeting with someone new gives him a chance to move on. Then one night, he looks up, and Jessie's standing there. Will his heart remain safe, or will he risk it one more time?
With Jessie back in town, the chemistry between them is too powerful to resist. Then the threatening messages return. They must face the fact that someone in Swan Harbor will do anything to keep them apart.
Except – the heart wants what the heart wants, leaving Jessie and Cameron with a choice. Do they let the enemy win and go their separate ways? Or do they risk their hearts and fight for the future they want … together?
For a chance at a happy ending, is love worth the risk?
Targeted Age Group: Adult
Written by: Sophie Bartow
Buy the ebook:
Buy the Book On Amazon
Buy the Book On Barnes & Noble/Nook
Buy the Book On Smashwords
Buy the Book On Apple Books
Buy the Book On Kobo
Buy the Print Book:
Buy the Book On Amazon
Buy the Book On Barnes & Noble/Nook
Buy the Book On Thalia
Author Bio:
Sophie is a married mother of four who has spent the last 30+ years as a Speech/Language Pathologist working with adult post-stroke patients. Now that her youngest are in college, she's set out on a new journey. 
She lives in Florida with her husband, 1 cat and 1 dog. When she's not writing, she loves to travel, reading and watching T.V. while planning her next book.
Follow the author on social media:
Learn more about the writer. Visit the Author's Website
Facebook Fan Page
Twitter
Instagram
Pinterest
YouTube
This site contains affiliate links to products. We may receive a commission for purchases made through these links.