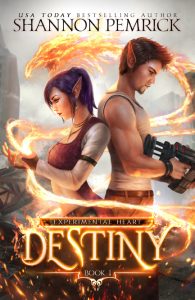 About Destiny:
Most people could never kill without regret.
I don't have that luxury. I'm an artificial creation who exists solely to follow the orders of a tyrannical maniac. Death is the only constant I know.
I want more, so I'm running.
What lies beyond the realm of my former master, presents a whole new set of problems, including a mistake that lands me at death's door. I accept that. Welcome it, really. For a relic of war, death is my inevitable release.
But fate is a fickle creature.
When a dragon saves me—a creature said to be long extinct—then offers me a chance at revenge, I don't know what to believe. Trust gets people killed, but something is different about this creature.
Will he give me the freedom I desire, or is my fate sealed when I agree to his terms?
Targeted Age Group: New Adult
Written by: Shannon Pemrick
Buy the ebook:
Buy the Book On Amazon
Buy the Book On Barnes & Noble/Nook
Buy the Book On Apple Books
Buy the Book On Kobo
Author Bio:
USA Today bestselling author Shannon Pemrick is a full-time slow-burn romantic fantasy author, fuller-time geek, and unrelenting dragon enthusiast. She owns too many novelty mugs, not enough chocolate, and maintains a forbidden love-affair with all things shiny. When she's not burning her fingers across a keyboard handing out adventures and HEAs, she's rolling dice and getting lost in RPGs or searching for brides for her dragon overlords.
Follow the author on social media:
Learn more about the writer. Visit the Author's Website
Facebook Fan Page
Twitter
This site contains affiliate links to products. We may receive a commission for purchases made through these links.