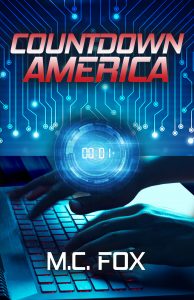 About COUNTDOWN AMERICA:
Still grieving the loss of her husband, CIA Agent Isabella Bendel is excited about her promotion to Chief Supervisor. It will finally take her out of the field and allow her to spend more time with her young twins. However, the promotion put a giant target on her back and it's clear someone wants her out of the way. When an attempted hit goes wrong followed by the kidnapping of her children and mother, Isabella's world is completely shaken and she's not sure who she can trust. With the full resources of the CIA looking for her family, Isabella must keep her calm and piece together a puzzle which points towards a Russian attack on the US. Time's running out and Isabella must save her family and stop those hell-bent on destroying the United States before it's too late.
Targeted Age Group: 18-up
Written by: M.C. Fox
Buy the ebook:
Buy the Book On Amazon

Author Bio:
As a writer, I've long been fascinated by the world of espionage. Working as an accountant in New York, I'm constantly inspired by the sights and sounds of a large city, and how that forms the perfect environment for a fast-paced thriller. Given our currently unstable political climate, as well as the Russian hacking of the election, I knew that now was the time for a spy story set in the world of political cyber-espionage, led by a fierce female protagonist.
Follow the author on social media:
Learn more about the writer. Visit the Author's Website
Facebook Fan Page
Twitter
Instagram
This site contains affiliate links to products. We may receive a commission for purchases made through these links.