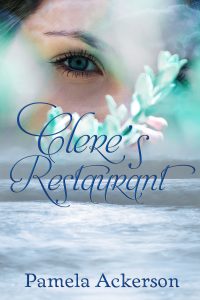 About Clere's Restaurant Short Story Collection:
Who knows what will happen next at Clere's Restaurant!
Sunday at 7
Jason Donovan has a secret.
The Clere's Restaurant's drama has been unfolding in front of his eyes. If he can see it, so can the restaurant's other guests. But there's something the servers aren't telling him, and he will get to the bottom of it.
Kat couldn't get out of the restaurant fast enough. Funny how things work out…she never thought she'd meet someone like Jason.
Secrets, lies, affairs, and deceit are served with a smile at Clere's Restaurant…
With a Side of Love
When Sarah Melton decided to move to Florida to be closer to her sisters, she had no idea she'd be served a plateful of drama.
She'd always been told that a restaurant was a good place to find subject matter for the soap operas…well, that was an understatement!
Who would've thought a joke would end up being so real?
Winds from the Past Larriane arrived in Florida with hope, a new job, and a new identity.
A hurricane came barreling towards her sanctuary. Alone in the world, she'd been taken in by the Clere's Restaurant clan and felt welcome.
What was she thinking? She should've known that you can't run away from your past.
The Throuple with Love
Surprises are quite pleasant when least expected.
Betty was in love with Bruce, but she had to keep the relationship at bay. She wanted the solid happily-ever-after but couldn't waver from what her heart needed. It was Trouble with a Three in front.
Love should have no boundaries. Could she have her cake and eat it, too?
The Best Catch of His Life
Cassie had to learn everything the hard way. She'd made one too many stupid mistakes, and now had a hard time looking in the mirror and liking what she was seeing. She felt like one of those soap opera tragedies where she was burned to a crisp and had to rise again as a whole new person.
She was a survivor. She was determined to get her happily-ever-after…if only she could forgive herself.
Targeted Age Group: Adult
Written by: Pamela Ackerson
Buy the ebook:
Buy the Book On Amazon

Author Bio:
Time traveling adventurer, award winning multi genre author, Pamela Ackerson was born and raised in Newport, RI where history is a way of life. She lives on the Space Coast of Florida where everyone is encouraged to reach for the stars! She writes time travel, westerns, Native American, historical fiction, non fiction, WW2, inspirational, self help marketing and advertising, personal and travel journals and children's preschool/first reader books
Follow the author on social media:
Learn more about the writer. Visit the Author's Website
Facebook Fan Page
Twitter
This site contains affiliate links to products. We may receive a commission for purchases made through these links.