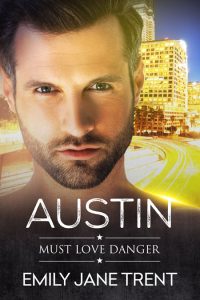 About Austin:
Navy SEAL Austin Burke must protect his best friend's sister, Marianna Suarez, from a dangerous threat that puts her life at risk. As they work together to safeguard her mother's priceless paintings, they can't deny the intense attraction between them. But with both of them haunted by past failures and hesitant to take a chance on love, will they be able to overcome their fears and find happiness together?
Targeted Age Group: women over 40
Written by: Emily Jane Trent
Buy the ebook:
Buy the Book On Amazon
Buy the Book On Barnes & Noble/Nook
Buy the Book On Smashwords
Buy the Book On Apple Books
Buy the Book On Kobo
Buy the Print Book:
Buy the Book On Amazon
Author Bio:
Emily Jane Trent writes romantic suspense and steamy romantic stories about characters you'll get to know and love. If you like a heart-stealing story that keeps you on the edge of your seat, you'll find her books are for you.
If you enjoyed her steamy romance, you'll love her military romances. Two series are available: Stealth Security and Must Love Danger. Both have Navy SEAL heroes protecting the ones they love.
Follow the author on social media:
Learn more about the writer. Visit the Author's Website
This site contains affiliate links to products. We may receive a commission for purchases made through these links.