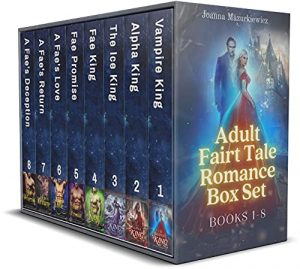 About Adult Fairy Tale Romance: Complete Collection Books 1-8:
Four Kings who will leave you breathless—each one sexier than the other.
No fairy tale collection is complete without Cinderella. In The Vampire King meet Cindy. Will she put her trust in a drunken hooker, who promises to get her to the ball to see her beloved prince?
In The Alpha King, Red seeks help from the one and only, Alpha King. A hot, arrogant werewolf who's had his eye on her since he stepped foot into Farrington.
Ready to read the Snow White inspired fairy tale, The Ice King? Yanni must repair her reputation in order to become Queen, and with the right man by her side she can change her future.
The Fae King stars reader favorite, Martha, and is set in the magical world of The Vampire King. Readers, who enjoy magical fairy tale retellings, will love this steamy take of a fairy godmother's search for more than a happy ever after.
These twisted fairy tales will drive you wild. Grab this limited time fairy tale boxed set now and begin your fairy tale adventure.
Targeted Age Group: 18+
Written by: Joanna Mazurkiewicz
Buy the ebook:
Buy the Book On Amazon

Author Bio:
Joanna Mazurkiewicz is USA Today Bestselling Author. She had aspired to be a writer upon completion of the Harry Potter series but also enjoyed reading books like 'Gone with the Wind', 'Animal Farm' and 'The doll'. She graduated from Swansea University with a bachelor degree in American Studies. While studying in the UK she made a decision to start writing fiction in English.
The "Whispers of the Sprite" is her first debut novel and she is currently working on the second book in the series. Joanna lives in Sully, a small town in South Wales near Cardiff with her boyfriend Bruce and daughter Zosia. She enjoys cycling around Welsh countryside some of which has become the settings in her first series.
Sign up for the author's New Releases mailing list and get free ebook of your choice!
Follow the author on social media:
Learn more about the writer. Visit the Author's Website
Facebook Fan Page
Twitter
Instagram
This site contains affiliate links to products. We may receive a commission for purchases made through these links.