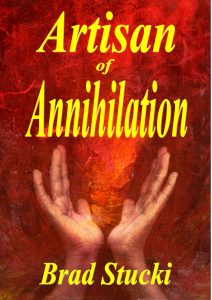 About Artisan of Annihilation: A Metaphysical Fantasy Novella:
The Stranger's mission was to find and destroy the Artisan. He'd just missed him on several worlds which had been energy-siphoned to fuel the Artisan's growing need for power.
The Stranger was no longer a match for what the Artisan had become. Still he had to try. The survival of all Creation was at stake.
Immerse yourself in this adventure today.
Targeted Age Group: 14+
Written by: Brad Stucki
Buy the ebook:
Buy the Book On Amazon

Author Bio:
Brad Stucki was born and raised in the desert Southwest keeping horses, cows and other assorted pets. He is the third of six children and survived childhood by utilizing an active imagination. Hobbies include reading and travel. He and his wife live in a high mountain valley, population 250 (more or less).
This site contains affiliate links to products. We may receive a commission for purchases made through these links.