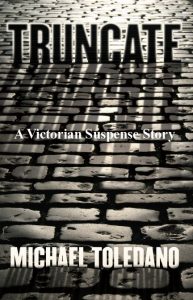 About Truncate:
Timothy Brompton is a typical upper-class Victorian man, busy managing the business left to him after his father's untimely death. Thames Pharmaceuticals has prospered under Brompton's direction and it is well on the way to becoming one of the preeminent pharmaceutical companies in the land. Much to Brompton's credit the company is prepared to become the main supplier for an influential apothecary, ensuring the continued prosperity of the business. However, Brompton's success interferes with the machinations of a sinister underground opiate operation, triggering a dangerous game of cat and mouse between Brompton and the unknown leader of the nefarious drug syndicate.
It starts as an apparent prank—a strange delivery to his home—but soon becomes deadly as more and more people are killed or injured as the mysterious enemy draws ever closer to Brompton. With the help of local constables as well as the forces of Scotland Yard, Brompton sets out to learn who is behind the evil scheme and why he has been targeted. The ensuing journey is filled with peril at every turn, endangering not just Brompton but those close to him, and nearly ending the life of the beautiful Miss Mayfield, a young woman trying to make her way in the world after the deaths of her nearest family members. Will Timothy Brompton manage to get to the bottom of the puzzle before more of his friends and loved ones are killed? Or will he ultimately succumb to the peril himself?
Truncate is a fast-paced page-turner, filled with twists and turns, leaving the reader eager for more. Michael Toledano has used his long-time fascination with Victorian England and created a story with elements of suspense, romance, and intrigue, with memorable and vividly-drawn characters and a lively setting. Michael is a lifelong avid historian, and this novel is the result of many years of careful research and the realization of a long-time dream.
Buy the ebook:
Buy the Book On Amazon