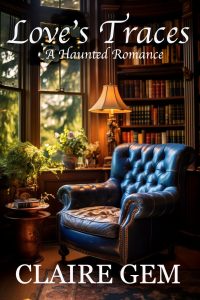 About Love's Traces:
A spunky librarian teams up with the local history professor to solve the mystery of a library nestled in North Carolina's Blue Ridge Mountains: a haunting. A restless spirit is trapped there, threatening the library's existence. A dual timeline romance, "Love's Traces" follows Abby & Jack as they uncover the ill-fated love story of a couple who lived—and loved—during America's Gilded Age. But love strikes again—on their journey of discovery, Abby & Jack's hearts become entangled too.
But it's not the only force at play.
The local college dean stands a formidable foe. She wants the library shut down, so its funding is redirected to her beloved college library. She will stop at nothing to achieve her ambition, even if it means obliterating a beloved local icon.
"Love's Traces" is a timeless romance, a tale of passion, determination, and the enduring power of love.
Targeted Age Group: 13+
Written by: Claire Gem
Buy the ebook:
Buy the Book On Amazon

Author Bio:
Claire is an award-winning author of romance and women's fiction. Her supernatural suspense, Hearts Unloched, won the 2016 New York Book Festival, and was a finalist in the 2017 RONE Awards. A lover of history, her Haunted Romance series are all set in places that hold the essence of lives—and loves—from the past.
Claire loves exploring the paranormal and holds a certificate in Parapsychology from Duke University's Rhine Research Center. She earned her MFA in creative writing from Lesley University.
A New York native, Claire now lives in Florida with her husband of 45+ years. When she's not writing, she can be found reading in the sun on the water or tending to her bazillion houseplants.
She loves to hear from her readers, so don't be shy about reaching out!
Follow the author on social media:
Learn more about the writer. Visit the Author's Website
Facebook Fan Page
Twitter
Instagram
This site contains affiliate links to products. We may receive a commission for purchases made through these links.