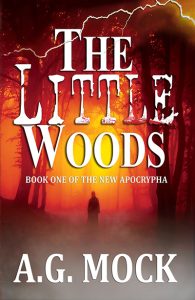 About The Little Woods:
AN AMAZON CHARTS #1 HORROR IN THE US, UK & CANADA
Something feels very wrong about the Little Woods—something chilling and unnatural—and Ian Cockerton is about to remember why in 2022's American Fiction Awards winner for Best Occult Horror and Best Supernatural Horror.
Western Pennsylvania, 1977. It was meant to be a harmless game. But when their summertime rite of passage goes terribly wrong, not all the boys will make it back from the Little Woods. Something ancient and inhuman has been awakened, and it wields a fate more horrifying than death.
Western Pennsylvania, 1995. Plagued by a mix of nerve-shredding flashbacks and uncertain premonitions, Ian Cockerton has vowed he'll never return to his childhood home. When his fragmented visions predict more horrifying deaths by the demonic entity from the Little Woods, Ian no longer has a choice. Together with his brother and a charismatic psychic from New Orleans, he's about to engage in the greatest battle of his life.
But is it too late to stop the deadly prophecy?
Download your KINDLE copy today for just $1.99 and find out!
…
The chilling first book in the New Apocrypha series, The Little Woods is a terrifying coming of age tale of modern-day demonic possession, inspired by real events. If you like dual-timeline stories, supernatural phenomena, dark biblical prophecy and twisted endings you won't see coming, you'll love A.G. Mock's instant horror classic of good vs. evil.
YOUR SCARES ARE WAITING—SEE YOU IN THE WOODS…!
Targeted Age Group: 17+
Written by: A.G. Mock
Buy the ebook:
Buy the Book On Amazon
Buy the Book On Barnes & Noble/Nook
Buy the Book On Smashwords
Buy the Book On Apple Books
Buy the Book On Kobo
Author Bio:
A.G. MOCK is a supernatural suspense writer who loves to bring you all things that go bump in the night!
Originally from western Pennsylvania, his publishing career began in the UK where he lived for over a decade. Many attribute this unique experience to his universal, intimately relatable writing style.
Mr. Mock currently lives in rural South Carolina with his incredibly patient wife, two peculiarly challenging but adorable rescue dogs, and a cheeky ghost who often makes itself known with an odd, smoky scent.
His wife and dogs he treasures wildly; the ghost he can take or leave.
The Little Woods is his debut novel. Book Two, DISCIPLE, is now available!
Follow the author on social media:
Learn more about the writer. Visit the Author's Website
Facebook Fan Page
Twitter
Instagram
This site contains affiliate links to products. We may receive a commission for purchases made through these links.